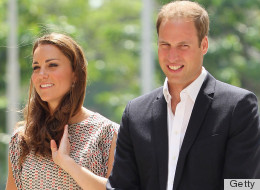 The Duke and Duchess of Cambridge are expecting a baby, according to an official statement just released by palace officials, who confirm that Kate Middleton and Prince William, both 30, are adding a royal boy or girl to their mix.
The official statement of Kate Middleton's pregnancy comes after an exhaustive set of baby rumors that have dogged the couple ever since their royal wedding in April 2011:
The new royal baby will obviously be the first for William and Catherine, who married in 2011 after a 10-year on-and-off courtship. He or she will be Queen Elizabeth II's third great-grandchild (after Savannah and Isla Phillips), Prince Harry's first niece or nephew and will make Pippa Middleton a proud aunt.
Our biggest congratulations to the Palace! And for the rest of us: buckle up. It's going to be quite a year.
Kate's already got quite the way with children!
Source:
http://www.huffingtonpost.com/2012/12/03/kate-middleton-pregnant_n_1877636.html?ncid=edlinkusaolp00000003